Coder Sprint, or how to have a healthy DrupalCon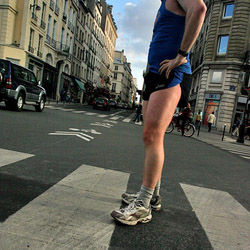 One thing I realized in DC is that I am not the only geek around concerned about my health; I am vegetarian, exercise every day, run 3 to 4 times a week and overall try to find balance in my life. I love working in the Web industry, however for me and almost everybody else I know working in the same field it means having to spend a huge amount of time sitting in front of a computer (and, for most of my friends, drinking a lot of beer too).
The latest DrupalCon had its King of Parties in charge of making sure geeks would see some action along the week. Although I enjoy sharing a couple drinks from time to time with other Drupalers, I must say that I am no more the geek I used to be; I don't drink as often as before and when I do, I usually don't need much before hitting the bed. On the plus side, I get much more done in the morning while others are still sleeping they beer off.
So, for all the Drupalers out there that are willing to socialize outside of the bars and wish to stay in shape through the DrupalCon, I propose the "Coder Sprint" group; meeting in the morning for an early run, yoga session, or whatever you want to practice, followed by a healthy breakfast before we all hit the sessions. We'll sort out the logistic later on, but from what I have heard it should be easy to find areas around the venue to exercise.
Anybody else interested in having a healthy DrupalCon in Paris? If so, I'll post this information on the DrupalCon website as soon as it is up.
Picture from Hector (Original on Flickr) - Creative Commons